The nine days of Navaratri are almost at an end and on the tenth day we celebrate the festival of Dussehra. The literal meaning of Dussehra in Sanskrit is 'the removal of bad fate'. It's when Lord Ram rescued Sita from the clutches of Ravana. And talking about 'clutches', Dussehra is the perfect excuse for us to shop to our heart's content without feeling guilty.
Most people opt for traditional Indian attire for their Dussehra celebrations. If you're looking for something other than a lehenga or saree, here are a few alternate celebrity inspired options for you.
"Indian" Dresses
If you're not bound by convention, you could go in for the Indian version of a dress. Anarkali dresses are the new rage in B-town these days. Everyone who's anyone has been seen wearing one this season. But then again, anarkalis and kalidars never really went out of fashion.
Kalidar Suits without Dupattas for Dussehra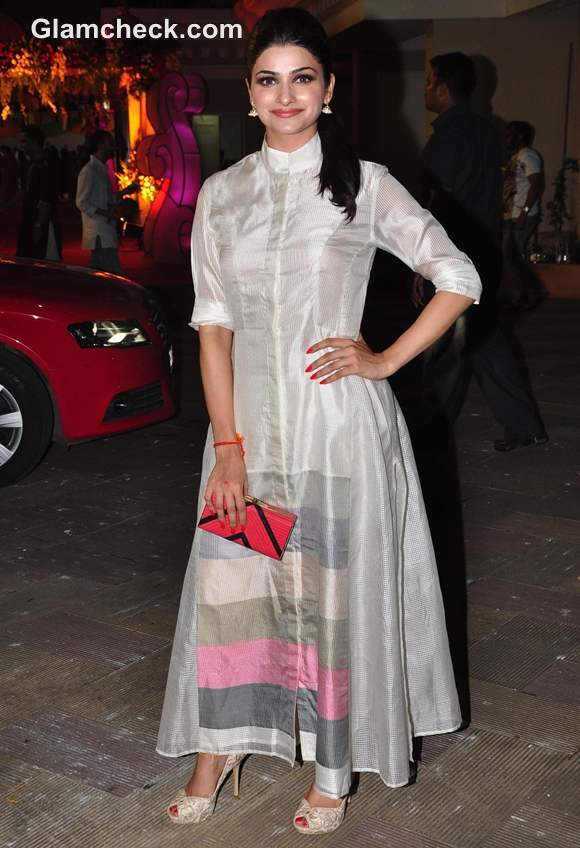 How dress for Dussehra 2012
Prachi Desai looked gorgeous in a Rahul Mishra creation. Her dress had a high Chinese collar with a princess cut. She wore her dress with a simple ponytail, jhumkas and pumps. One can't miss the matching nail polish and French Connection clutch that she used to complete her look.
Tips
Accessories are a great way to make a statement when used with a solid colored dress
You could wear a dupatta or stole to accentuate your look.
High collars area great way to highlight a long neck.
If you're wearing a tie-up at the back, you could add ornate latkans to the ends of the tie-ups.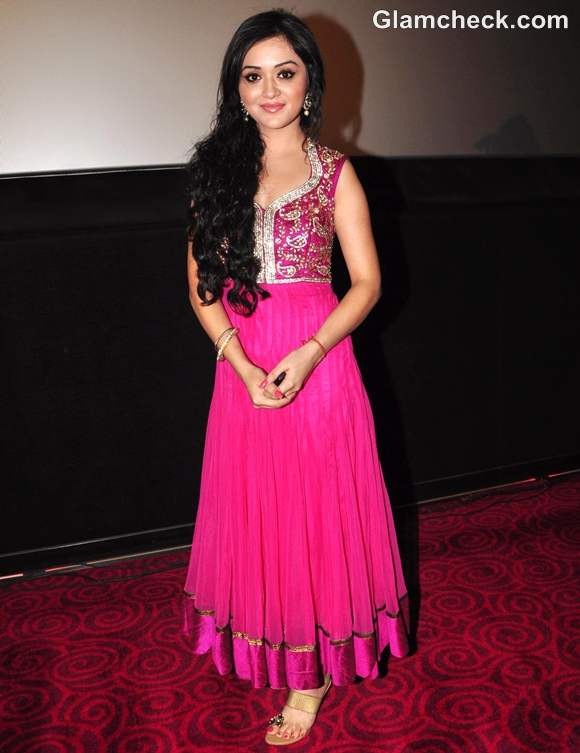 How dress for Dussehra 2012
Rageeni Nandwani wore a beautiful bright pink anarkali with gold embroidery. This color and style emphasized her youthful appeal. A simple line of gold was added just above the border. Her hair was swept to one side, with a pair of gold earrings and footwear to match. She enhanced her fresh look with kohl lined eyes and a subtle pink lip color.
Tips
Hair tied to one side is the look of the season.
High heels are ideal while wearing dresses. But if you have a floor length dress, you could wear shoes with a smaller heel or flat shoes instead.
While wearing bright coloured anarkalis, tone down your makeup and choose your accessories carefully.
A maang tikka could adorn your forehead.
Kalidar Dresses with Dupattas for Dussehra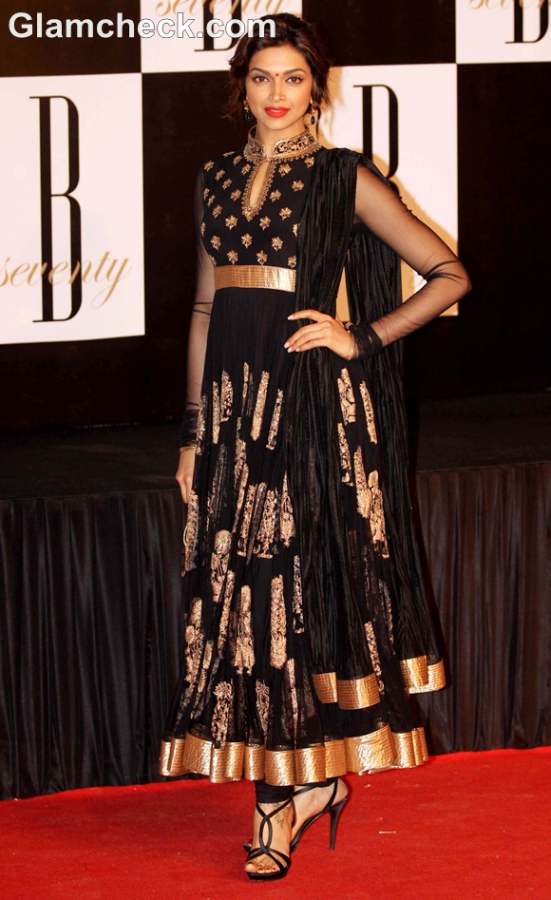 How dress for Dussehra
Deepika Padukone looked ravishing in a black and gold kalidar that ended just above her ankles, designed by Rohit Bal. Gold embroidery was done over the Chinese collar, bust and skirt. A gold band was added around the hemline, waist and dupatta border. She looked beautifully desi with her red bindi and hair tied up. Red lips, kohl lined eyes and a delicate pair of high heels made her look picture perfect.
Tips
A bright coloured bindi especially in red is sure to make a statement.
Bangles are another great way to accessorize.
Choose a delicate pair of heels or pumps for shorter length anarkali dresses.
Avoid jewellery around the neck while wearing anarkalis with embroidered necklines or collars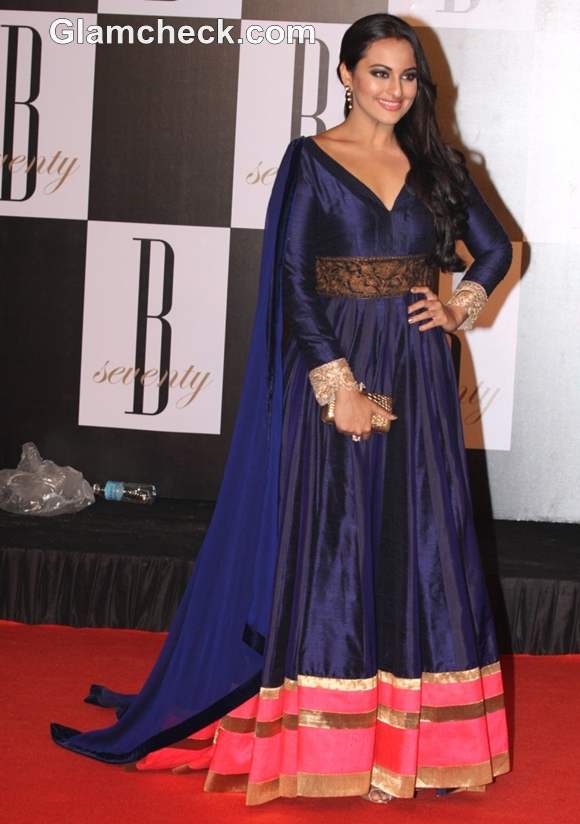 Sonakshi Sinha wore a floor grazing blue dress with a sweetheart neckline. Her waist was accentuated with a broad band of zardozi embroidery, as were the cuffs. The bright pink and gold border really made this dress stand out a mile along with a flowing blue dupatta. Her smoky eyes, pink lips and open hair left nothing more to be desired. Everything from her earrings, ring and clutch to her makeup complemented her look.
Tips
Broad borders in bright colors are in fashion this season.
If your dress has a lot of shine, be it plain or printed; keep your accessories to a minimum.
Instead of teaming your anarkalis with churridars, you could wear longer cuts and styles as dresses.
For makeup, eyeshadow and a black liner are recommended. You could also opt for bolder colours if needed.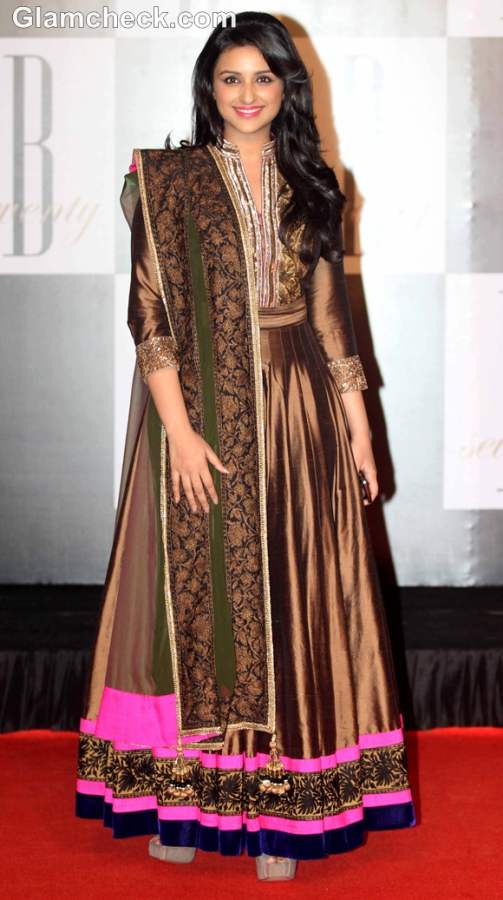 How dress for Dussehra 2012 bollywood celeb Parineeti Chopra
Parineeta Chopra looked resplendent in a floor-length kalidar with a hard-to-miss pink and blue border. She teamed her anarkali with a brocade dupatta with a pink finishing on one side and latkans hanging from the corners. She left her hair open, had kohl lined eyes and a hint of pink lip colour. A pair of peep-toe shoes completed this ensemble.
Tips
Pleats at the waist are a great way to emphasize it.
Pastel yet bold shades help make you look young and beautiful.
Mughal colours like gold, green, brown, pink and blue go well with anarkalis.
A well stitched anarkali can flatter any figure or body type and make you look as stunning as Parineeta Chopra does here.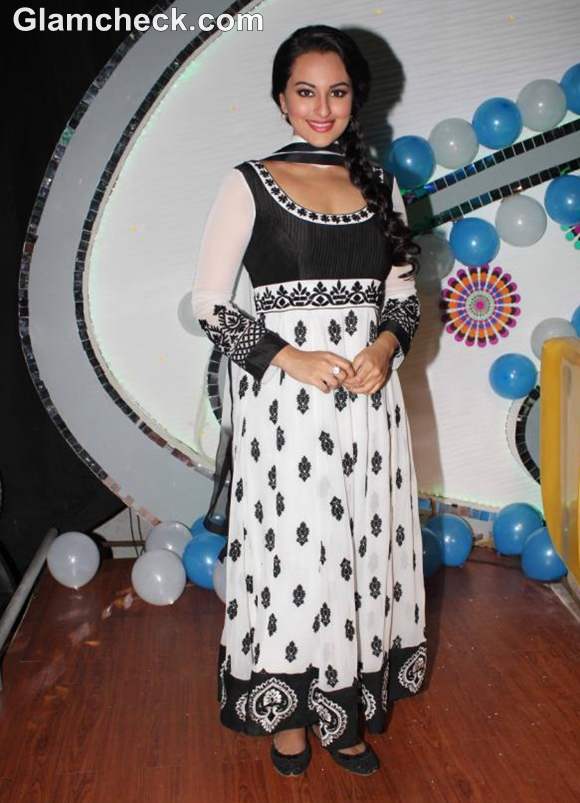 How dress for Dussehra bollywood celeb sonakshi Sinha
This black and white ankle length anarkali designed by Anita Dongre is an example of how to keep things simple yet elegant. This anarkali can be worn at anytime and anywhere.
In keeping with the desi look, Sonakshi Sinha's eyes were lined with kohl, her hair was tied in a loose plait towards one side and she wore black mojris. The scooped neckline worked very well with her face structure. The anarkali saw a mix and match of pin stripes at the bust, and Indian motifs all over the rest of the garment. The large embroidered borders at the waist, hem and cuffs complemented the smaller butis on the garment.
Tips
Don't shy away from printed dresses as they are a great option.
Braided hair kept to one side is a very desi way to wear your hair this season.
Scoop necklines are an option for people with shorter necks.
Embroidered jutis are a traditional footwear option.
Traditional Anarkali and Kalidar Styles for Dussehra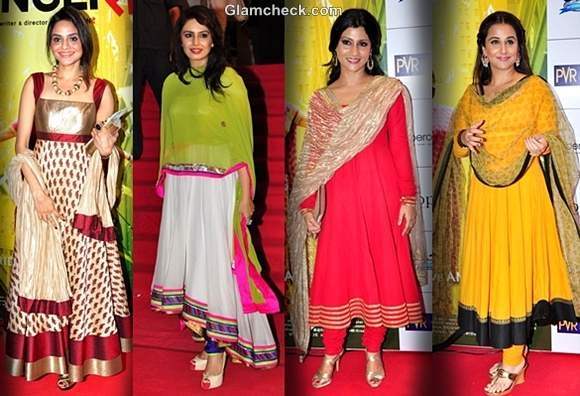 Anarkali Suits for Dussehra 2012
Anarkalis and kalidars make a woman look beautiful and young. Just like sarees, they have a timeless elegance about them that sets them apart. Besides being classy, today they come in a wide range of styles to suit every occasion.
They come in different cuts with a little or a lot of flair. For example, a thin and tall person should add extra kalis to add a bit of volume to their garment. So while choosing colours and cuts, keep in mind your personality and the shape of your body.
Tips
Asymmetrically styled dresses are another great option.
You could experiment with different hairstyles and accessories.
Draping your dupatta from the front or the back could highlight or cover desired areas.
A minimal amount of makeup is the best way to keep the focus on your garment. Add a hint of colour to your lips and eyes for effect.
Accessories are a must. Even if it's just a simple pair of gold hoop earrings or jhumkas.
Most looks this season feature side swept or open hair styles.
You could put mehndi on your hands.
Neon colors are also in vogue.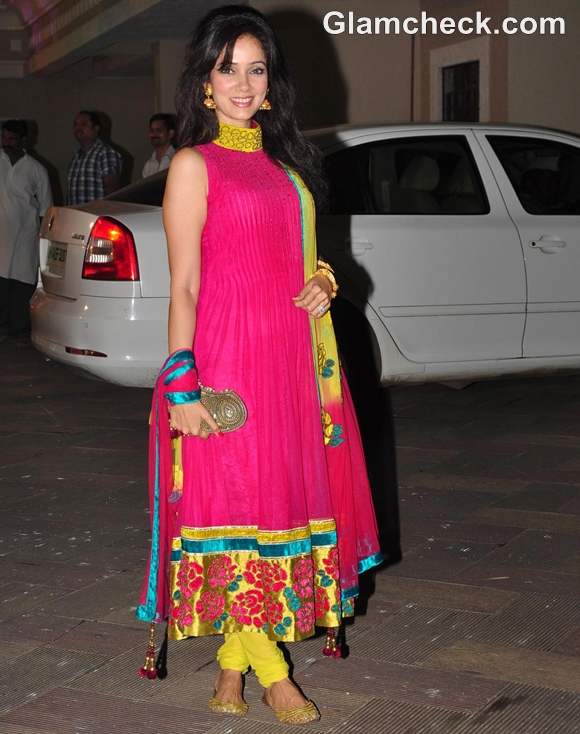 How dress for Dussehra 2012 Anarkali Suits
Vidya Malvade wore a bright pink and yellow anarkali. There were pinstripes down the front and the border had flowers in bright colours with a matching set visible on the shaded dupatta. The high collar laid an emphasis to her slender neck with embroidery on that too. She wore gold jhumkas and jutis and carried a clutch. The addition of an eye catching blue complemented the yellow and the pink in the ensemble.
Tips
You could wear a beautiful brooch as an accessory or to keep your dupatta in place.
Shaded kalis or dupattas are a nice way to introduce different colours.
If you opt for a dupatta, pay special attention to the border and finishing.
Applique motifs can add a fun design element to a garment.
Try to make the corners of your dupatta interesting.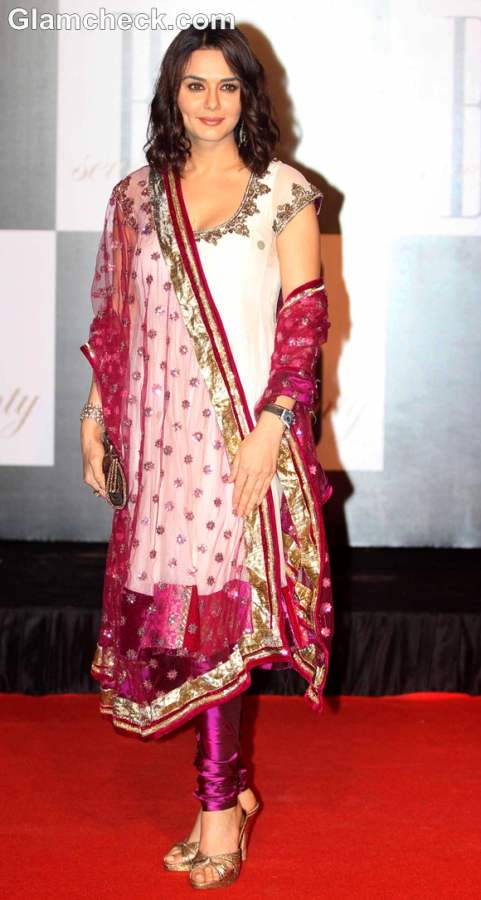 Preity Zinta was recently spotted at an event in a beautiful white and magenta outfit. She wore a churridar style salwar kameez. There was a gold border running all around the dupatta with silver embroidery around the neckline and sleeves. She accessorized with gold earrings, a clutch and a pair of heels to match.
Tips
Embellished with sequins or embroidery, your anarkali can be a work of art.
You could experiment with different bindi shapes and colors.
Since the neckline is so beautifully done, adding a neckpiece like a choker as an accessory is optional.
Lurex cut work designs, applique or brocade borders are great for adding a rich look.
So get set to rock this Dussehra just as they do in Tinsel town.